Nutrex Lipo-6 Dynamix 30sv, Over stock sale!!
Buy 2 or more bottles of Nutrex Lipo-6 Dynamix for only 20.95 each with free shipping!!
Description
Buy 2 or more bottles of Nutrex Lipo-6 Dynamix for only 20.95 each with free shipping!!
Lipo 6 Dynamix By Nutrex – Fat Burner

We all know that the "secret" to weight loss is a healthy mix of diet and exercise. The problem with this approach is that it can take time…a really  long time. This is why so many people hop on and off the diet wagon, and it's through no fault of their own. You see, our bodies are incredibly stubborn. They like to stay the way they are, and when we try to build muscle or lose fat, they fight us tooth and nail. But, it doesn't have to be that way any longer, thanks to LIPO 6 Dynamix!
WHAT IS LIPO 6 DYNAMIX?
LIPO 6 Dynamix is an advanced thermogenic fat burner that can help you reach your weight loss goals. Using a synergistic matrix of scientifically-researched compounds, LIPO 6 Dynamix helps you shed those unwanted pounds by igniting fat loss through multiple pathways, resulting in faster fat loss.
LIPO 6 Dynamix is unlike anything you've tried before. We've included a robust combination of ingredients to boost metabolism, increase fat burning, reduce fat storage, and enhance energy levels.
We've also included a high dose of Dynamine™ to deliver intense, long-lasting energy with no crash or jittery feelings. You'll be able to work harder each day and still have the energy to crush it in the gym, burning even more calories and losing weight faster than ever.
Cognitive Enhancing Nootropic Blend
One of the unfortunate side effects that comes with dieting, aside from the nagging hunger pangs, is the annoying "fog" that you seem to be in everyday. This brain haze is a sad, inevitable result cutting calories. You see, when removing calories from the body, you're also decreasing the amount of nutrients your body needs to create things such as neurotransmitters, which are vital to optimal cognition, focus, and attention.
That's where LIPO-6 Dynamix Cognitive Enhancing Nootropic Blend comes in!
Teeming with powerful brain-boosting ingredients including DMAE, Choline Bitartrate, AlphaSize Alpha GPC, and Huperzine A, LIPO-6 Dynamix will ignite your mind and clear the fog that's engulfed your senses.
You will feel more focused and "in the zone" all day long, so that no matter how low your calories go, your concentration, effort, and productivity never suffer.
Lipo6lytic Blend
Here's where the real fat burning magic of LIPO-6 Dynamix happens. Our Lipo6lytic blend is all about transforming your bodying into a pure fat burning machine. Including ingredients such as L-Carnitine L-Tartrate, Theobromine, and Rauwolfia Vomitoria, LIPO-6 Dynamix helps your body access those "stubborn fat" reserves and then burn them for energy. But that's not all, we've also included Green Coffee Bean, which is naturally rich in chlorogenic acid.
Why is this important?
Research has noted that chlorogenic acid may reduce fat absorption and storage, and it may improve the function of the fat burning hormone adiponectin. Essentially, our potent Lipo6lytic blend helps your body access body fat for energy production and also may help prevent your body from absorbing and storing more fat too! Using this multi-directional attack on fat is what makes LIPO-6 Dynamix unlike any other thermogenic fat burner on the market!
Caffeine (175mg / scoop):
Caffeine lays the foundation for the powerful fat-burning, energy-boosting effects of LIPO-6 Dynamix. It provides the cognitive and metabolic spark you need to get going everyday and "flips the switch" on fat burning by initiating lipolysis in the body.
But that's not all.
Caffeine is also a powerful appetite suppressant, helping you avoid those constant cravings that would otherwise derail your progress and ruin your results. LIPO 6 Dynamix includes two  forms of caffeine in caffeine anhydrous and caffeine citrate to deliver immediate and long-lasting energy that sustains you throughout the day.
Methylliberine (as Dynamine™ 40%) (125mg / scoop):
Dynamine represents the cutting edge of sports nutrition. This ingredient is very similar to TeaCrine, however DYNAMINE hits harder in a shorter period of time and stays active longer in your system (up to 3 hours).
Developed by Compound Solutions, Dynamine is a powerful CNS-activating compound derived from the Kucha Tea Leaf. It's chemically similar to caffeine, but doesn't come with the rapid tolerance build up or jittery feelings that sometimes accompany high doses of the well known stimulant.
Dynamine infuses your mind and body with intense energy and focus that power you through each day and help you burn more calories in your workout so that you realize faster fat loss than ever before.
Best of all, there is no crash from Dynamine, just clean, long-lasting energy!
What's In Lipo 6 Dynamix?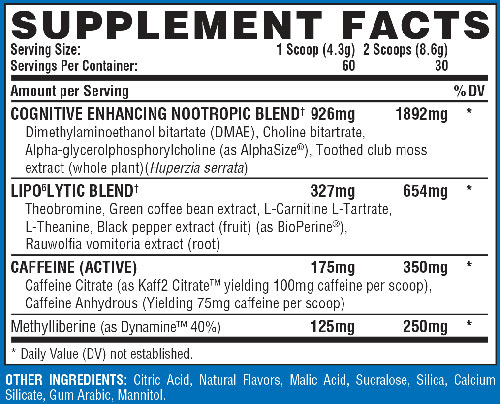 Additional information
| | |
| --- | --- |
| Flavor | Blackberry Lemonade, Strawberry Kiwi |
| Bulk Discount | $1 Off Each |